In March of this year WAGO released their highly anticipated Pro 2 power supply, and with it an abundance of features to make this the power supply for your control cabinet.
Performance Versatility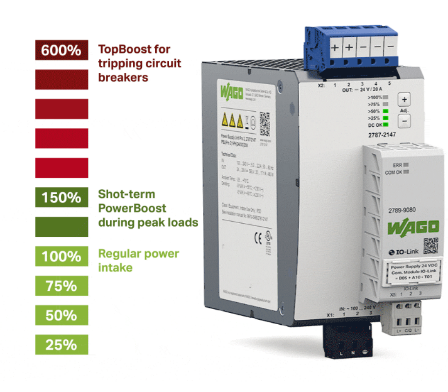 With an array of load management functions, the Pro 2 offers some of the greatest versatility on the market while staying in a cost-effective price range.
This power supply can be configured as an Electronic Circuit Breaker (ECB), creating greater protection for your cabinet and machines. Combined with WAGO's PowerBoost and TopBoost to combat high current start-ups, the Pro 2 promises to keep your machine start-ups safe and efficient so you can continue to operate at your full capacity.
TopBoost – 600% output power for 15 milliseconds, triggering thermomagnetic circuit breakers in the event of a short circuit.
PowerBoost – 150% output power for 5 seconds, charging capacitors quickly and switching capacitive loads reliably.
IIoT Communication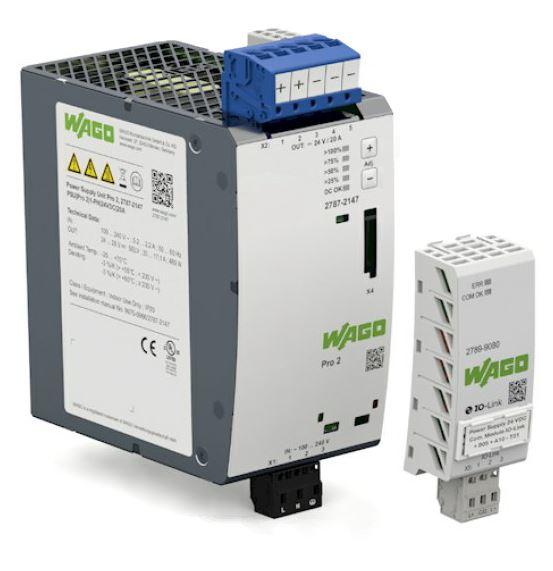 Through an optional communication module, the Pro 2 provides permanent fieldbus communication to report on output current and voltage data. By capturing and analyzing this data from your power supply, you can create greater control over your operations to act timely and effectively.
Communication Protocols Supported:
Modbus RTU

IO-Link

Modbus TCP/IP

Ethernet IP
Power Supply Reliability
Efficiency
The Pro 2 boasts an impressive 96.3% efficiency level, helping to reduce CO2 emissions in the cabinet and requiring less climate control to ensure equipment runs at peak performance.
With such high energy savings, engineers have shown the lifetime of the Pro 2 to last nearly 1,000,000 hours, allowing the power supply to function for the entire service life of your equipment and machines.
Temperature Regulation
No matter the cabinet's climate, the Pro 2 can perform at peak capabilities. It's surrounding operable temperature ranges from -40 to +70oC, requiring no additional modifications for the conditions.
---
Standard Electric Supply Co. is a family-owned distributor, built on delivering outstanding service. For over 100 years, Standard Electric has been the best at what they do; delivering top-quality products, outstanding service, and providing value-added services to customers across the Midwest. Visit standardelectricsupply.com to see how Standard Electric can become the solution to your needs.