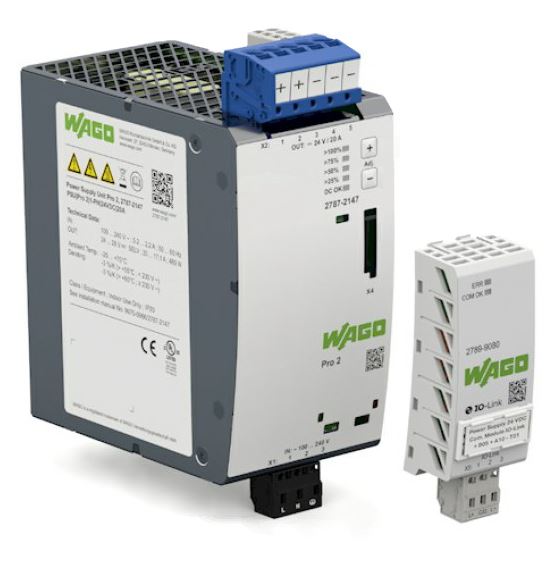 Standard Electric and WAGO are offering the Pro2 Power Supply Line. The units range from 120W to 960 W,  and set new standards for communication and parameterization flexibility. It also offers energy conversion efficiency up to 96.3%. The expansion of the WAGO Pro2 Power Supply Line also permits fieldbus communication via snap-on type communication modules and feature high-performance TopBoost and PowerBoost capabilities.   
The Pro2 continues to provide its familiar features such as reliability, cost-savings, and safety. By using a power supply unit to monitor the power supplies to drive technology, it significantly increases the fail-safety of a specific application. The power reserves of the subordinate power supplies are also ideal for start-up and sudden load changes.
Features & Benefit:
Intelligent load management
High resistance from environmental influences
Money and resource savings
Communication pioneer
Easily adaptable for nearly any application
The WAGO Pro2 Power Supply portfolio includes a model with a protective coating that protects against oxidation by corrosive gases, salt spray, and humidity for operations in harsh industrial environments.  Furthermore, the power supplies provide reliable operation at vibrations of up to 0.7g.
Click here to download the WAGO Pro2 Power Supplies brochure.
To learn more about the WAGO PRO2 Power Supply Line, click the link below and your Account Manager will be in touch.
---
Standard Electric Supply Co. is a family-owned distributor, built on delivering outstanding service. For over 100 years, Standard Electric has been the best at what they do; delivering top-quality products, outstanding service, and providing value-added services to customers across the Midwest. Visit standardelectricsupply.com to see how Standard Electric can become the solution to your needs.
Sharing this post