Monitor and analyze temperature variances with Wenglor's OptoTemp Sensor for Contactless Measurement. This all-around sensing tool measures temperature ranges between -25 and +350°C, allowing for multi-industry applications.
Most recently these non-contact temperature sensors have gained attention with concerns surrounding COVID-19. By installing a temperature sensor with alignment tools, like Wenglor's OptoTemp, companies have been able to stay on the cutting edge of safety by catching low-grade fevers and decreasing the threat of exposure at work.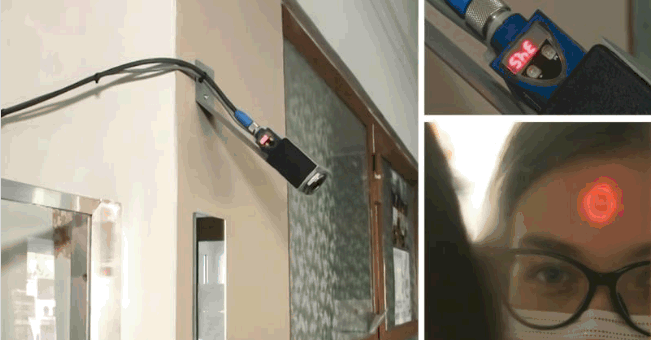 "The Slovakian company Sijuko installed a special safety precaution for its employees: A fever measuring station with our Photoelectronic Temperature Sensor OptoTemp, that gives an alert when temperatures are above normal. With a contact-free measurement at the forehead and a precision of up to 0,1 °C, each employee can make sure, whether an elevated temperature is present or not – and hence avoid the further spread of COVID-19." (LinkedIn – Wenglor)
Common Applications
The OptoTemp's temperature range makes it a perfect solution for the following industries and applications:
Woodworking Industry – Correct viscosity of glues and adhesives is assured by means of precise temperature measurement when gluing veneered and laminated board materials or wooden edges.
Food Industry – OptoTemp sensors monitor consistent compliance with the cold chain during production and processing of meats in the food industry.
Tire Industry – OptoTemp sensors monitor the entire baking process during vulcanization in order to ensure ideal thermal conditions when amalgamating rubber mixtures.
Equipment Manufacturing – Contactless temperature measurement is a suitable means of preventive maintenance for equipment and machines. It provides protection from overheating, and thus increases machine and equipment safety and reliability.
Plastics Industry – High levels of quality in plastics production necessitate continuous temperature monitoring and analysis. OptoTemp sensors measure temperature at several places in order to monitor the quality of injection moldings.
Paper Industry – During the paper manufacturing process, OptoTemp sensors perform measurements at paper rollers and drying cylinders in order to monitor the drying process.
---
Standard Electric Supply Co. is a family-owned distributor, built on delivering outstanding service. For over 100 years, Standard Electric has been the best at what they do; delivering top-quality products, outstanding service, and providing value-added services to customers across the Midwest. Visit standardelectricsupply.com to see how Standard Electric can become the solution to your needs.