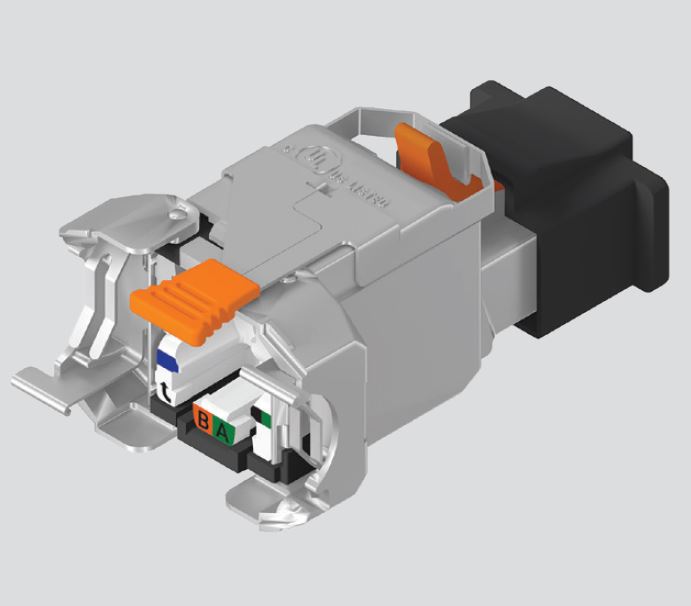 Field termination of Ethernet cables can be time-consuming, and even more so when dealing with bonded-pair technology that requires teams to separate all twisted pairs before installation. Designed to overcome this exact pain point for RJ45 connectors, Belden's Industrial REVConnect solution is an efficient and easy-to-use cable management system.
Thanks to a superior insulation piercing mechanism, the ruggedized, field-installable connectors ensure the highest levels of network reliability over time and make it easy for engineers to correct intermittent issues with signal transmission. Created with UL94 V-0 materials, the Industrial REVConnect is self-extinguishable within 60 seconds and meets all key protection ratings for harsh industrial environments, including resistance to vibration, noise, shock, electromagnetic interference and extreme operating temperatures.
The RJ45 connectors feature a universal and flexible core for compatibility with various jackets and come with options for pre-terminated cable and cores to be applied as either jacket or plug.
Built specifically to withstand exposure to the elements, the Industrial RevConnect RJ45 connectors are ideal for:
Engineers
System Integrators
Machine Builders
Benefits of the Industrial RevConnect include:
Ensure network reliability and uptime with a sophisticated insulation piercing mechanism that supports all conductor types.
Saves installation time in the field with a single crimp tool.
Skill-independent, <1% re-termination rate vs 9-10%.
Avoids downtime due to reliable connection.
---
Standard Electric Supply Co. is a family-owned distributor, built on delivering outstanding service. For over 100 years, Standard Electric has been the best at what they do; delivering top-quality products, outstanding service, and providing value-added services to customers across the Midwest. Visit standardelectricsupply.com to see how Standard Electric can become the solution to your needs.