Like a chameleon Edwards' 105XBRi Series XTRA-BRITETM LED Multi-Status Indicator does it all. With a quick adjustment to the dip switch settings, the flexible multi-status indicators can instantly adapt for use with or without an external control device (PLC, PAC or control relay).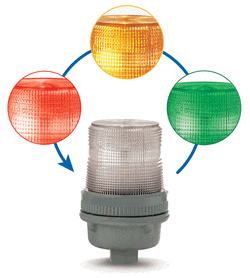 Heavy duty and reliable (UL and cUL listed), this multi-color visual signaling device features a corrosion resistant Type 4X enclosure can be panel or conduit mounted. Its base is manufactured from glass-reinforced thermoplastic polyester resin and the double fresnel lens is made of shatter resistant polycarbonate.
The Chameleon comes standard with Edwards Signaling XTRA-SAFE technology. This multi-status indicating devices employ patented combinations of color and flash-rate to provide more definite status indication to those who are colorblind. Even in extreme cases where no color is perceived, flash-rate variation provides a redundant layer of visual indication. This feature can be enabled or disabled with a simple dip switch change.
Additional Features Include:
Available in 24V DC or 120V AC
Available in Red/Blue/Amber or Red/Green/Amber
Three mounting bases: 3/4" pipe mount attachment, outlet box attachment, or wall mounting bracket
100,000 hour light source life
Immune to shock and vibration
31°F to 150°F (-35° to 66°C) operating temperature
---
Standard Electric Supply Co. is a family-owned distributor, built on delivering outstanding service. For over 100 years, Standard Electric has been the best at what they do; delivering top-quality products, outstanding service, and providing value-added services to customers across the Midwest. Visit standardelectricsupply.com to see how Standard Electric can become the solution to your needs.