Used to develop scalable solutions for a host of industries, Tatsoft's FactoryStudio 9.1 powered by FrameworX enables users to design industrial applications to address their unique perspectives and needs from edge-based data migration apps, to fault-tolerant redundant enterprise server systems. FactoryStudio powered by FrameworX was designed with a series of building blocks allowing the solution to be crafted and tailored using state-of-the art technologies like SQL, Microsoft .NET, HTML5, MQTT, and more. The release of version 9.1 builds upon the powerful, open, flexible, affordable, and secure FrameworX platform.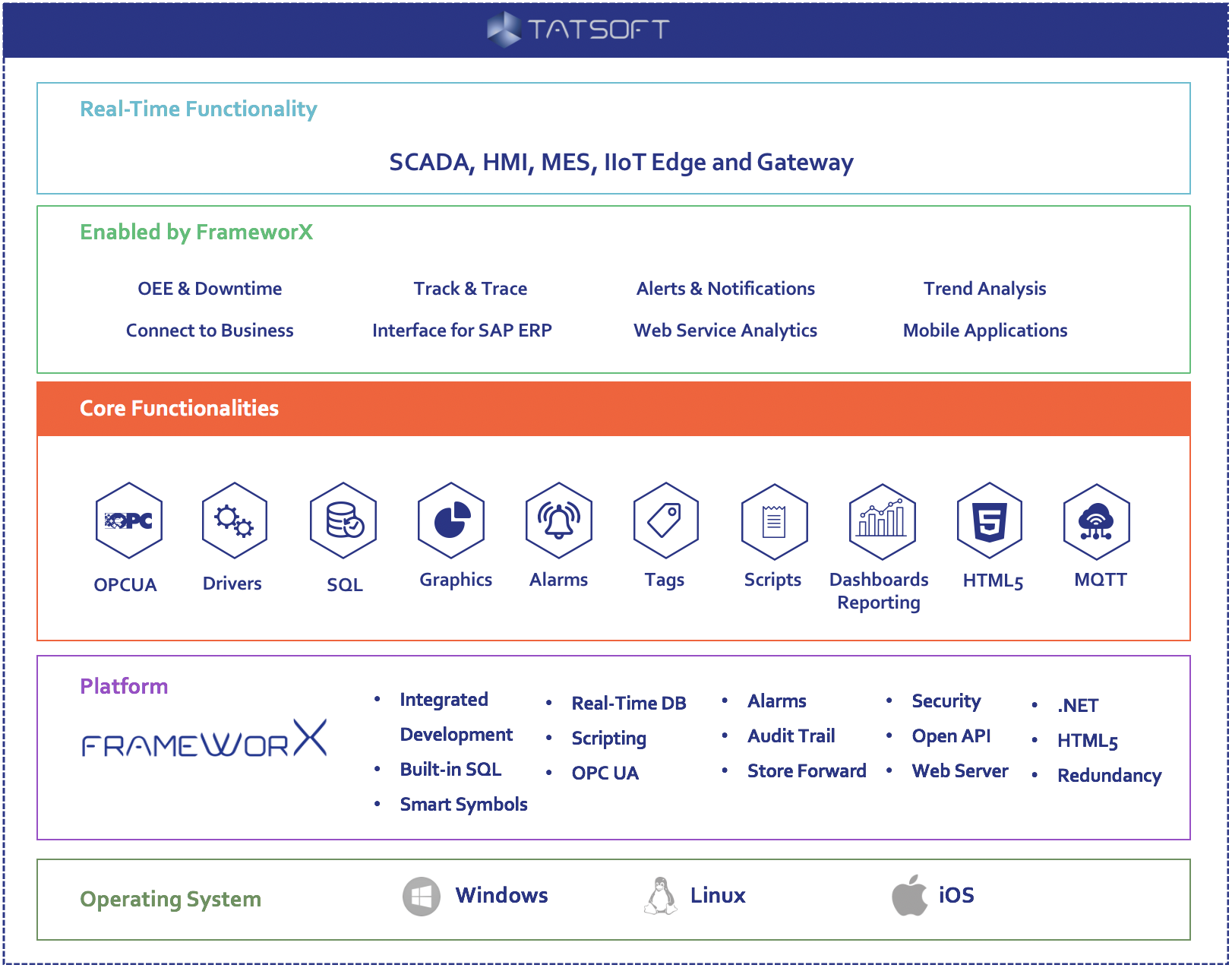 What's New in Version 9.1
Responsive Dashboards
Themes
MQTT Broker, Client & SparkplugB
Visual SQL Query Builder
High Performance Graphics Symbols
Python Integration
Project Templates
Powerful Development And Design: Complete tools for you to create what you need.
Easily create rich user interfaces for rich, thin, web or mobile clients
Flexible Scripting and Data Binding to build real-time applications
Fast, Secure and Robust designed into the FrameworX Platform
FactoryStudio: Unlimited by nature, yet Scalable by I/O and Clients to fit your needs, simple to advanced SCADA/HMI, IIoT Edge and Gateway all built on Tatsoft's FrameworX
FrameworX is a fully-integrated development environment including everything you need to create industrial applications right out of the box. It comes standard with graphical symbols and components, plc drivers, OPC UA, MQTT as well as a Built-In SQL database and more. Security, Alarms and Alerts, C#, VB.NET, Python, JavaScript, Audit Trail everything, Tools for Diagnostics.
Any Type of Client Or Device: Deploy to/access from Desktop, Web, Mobile, or Edge Device
Run on any version of Windows, Linux, iOS, Web, Raspberry PI
One Designer to create applications for desktops, mobile, and embedded devices.
Flexible deployment modules may be run in a distributed environment
Complete - Powerful - Cost-Effective
FrameworX is an affordable software platform for creating real-time applications to improve industrial operations, with flexible pricing and licensing to meet your needs. It includes all the tools you need in one complete offering.
FrameworX Unlimited – Includes unlimited Clients, Connections and Developers. Built-in drivers, SQL, OPC UA, MQTT and more
FactoryStudio – Scalable by I/O and Clients, simple to advanced SCADA / HMI, IIoT Edge and Gateway all built on Tatsoft's FrameworX
---
Standard Electric Supply Co. is a family-owned distributor, built on delivering outstanding service. For over 100 years, Standard Electric has been the best at what they do; delivering top-quality products, outstanding service, and providing value-added services to customers across the Midwest. Visit standardelectricsupply.com to see how Standard Electric can become the solution to your needs.