Heavy equipment manufacturers constantly look for ways to reduce costs and streamline workflows. But to adopt a new component, it must also meet their needs for versatility, durability and ease of use without compromising performance.
HellermanTyton's Ratchet P-Clamp is an innovative wire bundling solution that more than meets those requirements. Featuring an adjustable ratchet clamp mechanism and offered in five sizes and multiple mounting options, the Ratchet P-Clamp enables users to reduce parts and inventory costs. Plus, it cuts the time required for wire harness and cable installation and maintenance.
Engineered for heavy duty applications, it creatively solves wire bundling challenges in OEM, automotive and solar installations.
Versatility and Inventory Reduction
Inventory reduction is key to lower operational expenses. With so many different cable sizes, fastening requirements and engineering specifications for P-clamps, most manufacturers must keep an extensive inventory on hand.
HellermanTyton followed customers on the jobsite and learned installers often need to route bundles side-by-side, must improvise to secure electrical runs as a final assembly step or find a way to work around mounting challenges using brackets, washers or other tricks. Sound familiar? To turn challenges into versatility, they:
Made each clamp adjustable to accommodate a range of cable sizes from 0.24" (6.2mm) to 3.15" (80mm) with just five parts!
Created three lengths of mounting plates and 180° (straight), 15°, 30° and 90° angled orientations.
Developed three inline options utilizing fir tree and adhesive mounts.
Designed Ratchet P-Clamps with stampings to be stackable for parallel cable runs and offset applications.
Added a saddle to the top to give installers another point of attachment.
With Ratchet P-Clamp, users can turn "workarounds" into new "best practices."

Automatic Wire and Bundle Alignment
Traditional P-clamps often twist when you torque them down, stressing the bundle. They can also pinch wires when closing, and it's difficult to adjust cables during installation.
Addressing those issues, Ratchet P-Clamp:
Allows for pre-installation on the harness and alignment in the final mounting position.
Allows for pre-installation and alignment on the work surface.
Adjusts to close at the exact diameter and tension desired.
Aligns wires to the center as they are secured, reducing pinching.
Can be closed manually or with an EVO® Series Hand Tool and Tension Tabs.
To provide an extra level of abrasion resistance, we've developed Soft Inserts, an accessory that snaps into the clamp and provides enhanced protection when needed.
UL Listed
Ratchet P-Clamps with metal stampings carry the UL Listed designation. This is important for product designers, installers and maintenance crews. Third-party validation of this caliber speaks to the high level of quality and reliability, and in solar applications, UL Listed components streamline the inspection process.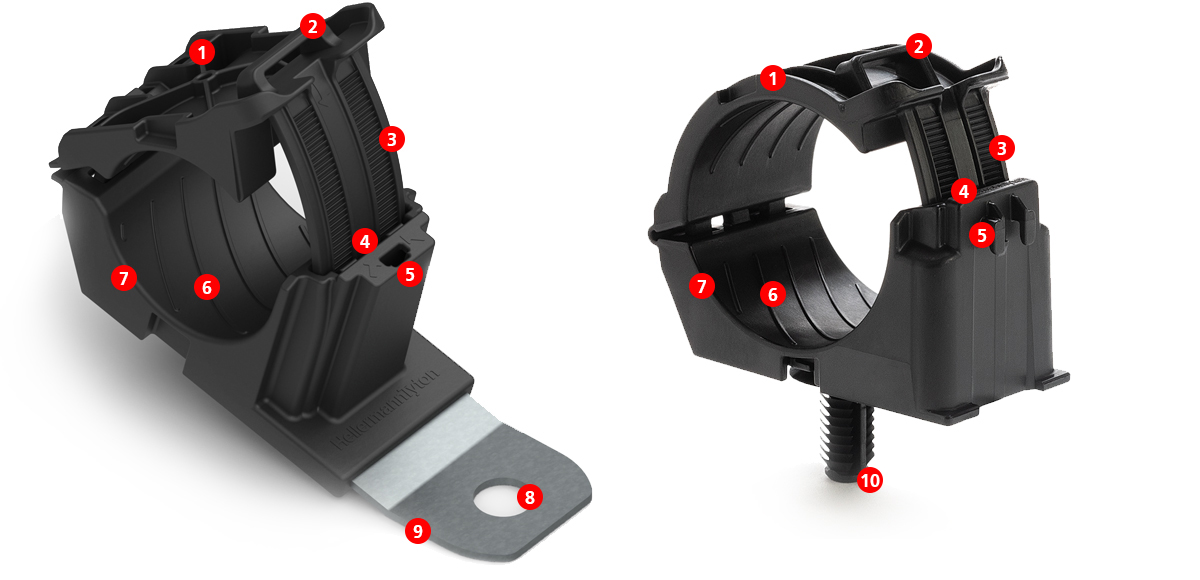 Impact modified, heat and UV stabilized PA66 plastic ensures long-term durability.
Integrated cable tie saddle allows attachment of additional bundle.
One-piece ratchet closure allows for easy installation, one-touch close.
Screwdriver release enables easy adjustments and maintenance.
Tension Tabs slide through this slot to facilitate closure using an EVO Series hand tool.
Interior rib design minimizes movement due to vibration.
Contoured clamp interior is designed to guide and center bundle to reduce pinching.
Mounting plates are available with M6, M8, M10 and M12 diameter hole sizes.
Coated or stainless steel mounting plates tolerate high-torque mounting, resist chemicals and salt spray, and do not corrode.
Choice of attachments available: round or oval fir tree offer high extraction and low insertion forces; adhesive option is ideal where no mounting hole exists.
---
Standard Electric Supply Co. is a family-owned distributor, built on delivering outstanding service. For over 100 years, Standard Electric has been the best at what they do; delivering top-quality products, outstanding service, and providing value-added services to customers across the Midwest. Visit standardelectricsupply.com to see how Standard Electric can become the solution to your needs.