Our Hot Products blog features new and buzz worthy products that we receive from our suppliers. See something you like? Give us a call and let's talk about it: 888-920-5572
Schneider TeSys U Combination Motor Starter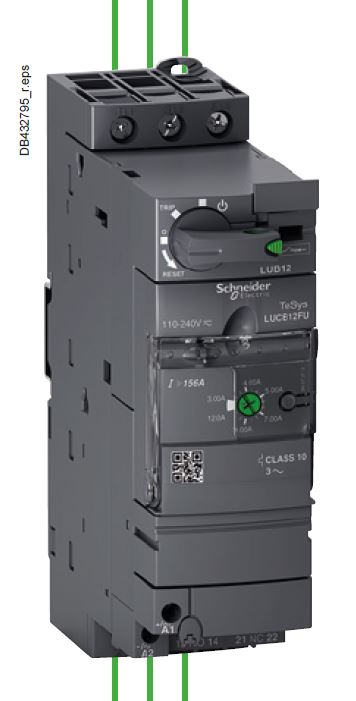 Schneider Electric's TeSys U Combination Motor Starter is a self-protected combination motor starter that is simple to select, install and use.
The TeSys U provides motor control for a wide range of applications, from a basic motor starter with solid state thermal overload protection to a sophisticated motor controller which communicates on networks and includes programmable motor protection.
Using a plug-in modular design, TeSys U allows for maximum flexibility in motor control. The compact, 45 mm wide power base mounts on either a panel or a 35 mm DIN rail. Users can then select and install the various plug-in components required for your application. It also offers a high-fault short circuit current rating of 65kA at 480Y/277 Vac! In addition, a directly mounted current limiter increases the protection level to 130 kA at 480 Vac and 65 kA at 600 Vac.
As a self-protected combination starter, the TeSys U is a UL508 Type E device. This offers the advantage of Type E's reliability as well as UL508's special endurance and short circuit tests, ensuring a coordinated combination starter that will clear a detected fault and protect itself from damage.
The TeSys U includes:
Power base which provides the main contacts (power poles) for the combination starter. Available in three versions: 12 A, 32 A and NEMA Size 1.
Control unit which provides the control and thermal overload functions for the power base. Interchangeable, wide-range control units provide motor protection from 0.15 to 32 amps.
Optional function modules offer customization for specific application requirements.
Optional communication modules enable integration into existing automation architecture via a variety of protocols.
The three available options are:
Standard providing Class 10 trip only with no communication capabilities.
Advanced providing a choice of Class 10 or Class 20 trip and allows for network communications.
Multifunction providing a wider range of programmable protection from Class 5 to Class 30 with built-in Modbus communication.
---
Finder 7L Series LED Panel Light
The 7L Series LED Panel Lights are the perfect solution for lighting machinery and electrical panels of all types. Extremely practical, functional they can be easily positioned anywhere within the electrical panel thanks to the direct magnetic mounting or through screw supports.
Features include:
Mounting "Two in one" : Direct magnetic mounting or through a screw-fixed metallic support
Versions for switching ON/OFF via integral switch, or integral movement detector
Brightness levels: 600 or 1200 lumens
Power supply – Multi-voltage: 12…48 V AC/DC and 110…240 V AC/
---
WAGO I/O System Field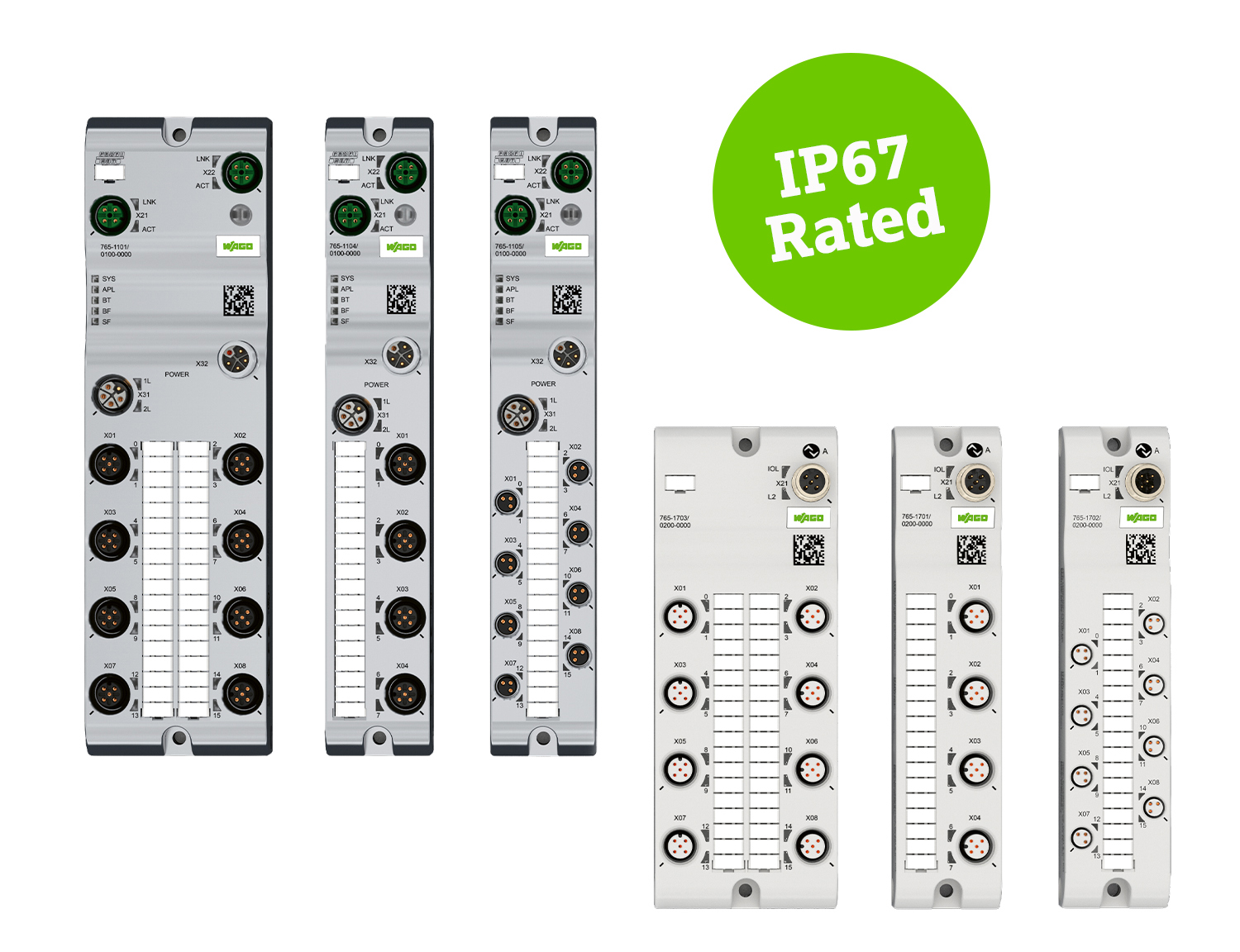 Designed to meet the requirements of modern decentralized production facilities WAGO's new I/O System Field provides maximum performance and high-level connectivity with an IP67 rating. The I/O System Field offers superior flexibility with two housing types: cast zinc and non-encapsulated with electronics.
The metal cast zinc housing devices are Profinet based and have input and output power ports for use with daisy chained modules, while EtherNet/IP and EtherCAT protocols will be supported in future releases. These modules were also designed for the time-sensitive networking (TSN) standard, support OPC UA communications and through Bluetooth technology can be configured via smart device app.
The non-encapsulated modules are lightweight, IO-Link hubs for versatile connection to an IO-Link Client.  These hubs are available in your choice of 8 or 16 configurable DIO ports and each channel is configurable for a 24 VDC digital input or output rated at 2 amps per channel.
WAGO's I/O System field allows you to extend your network connectivity, combine a functionality and aesthetics, integrate power management with innovative load management and have an all-in-one solution for both data collection and distribution with a variety of connector and cable possibilities.
Extended Network Connectivity
Connect through your industrial fieldbus network
Platform-independent data exchange through OPC UA
Fast and distributed access to module information via Bluetooth®
Access to system information via integrated Webserver
Combined Functionality and Aesthetics
IP67 metal housings with encapsulated electronics for extreme environments
Non-encapsulated, lightweight IP67 plastic housings for mobile applications
Detailed identification, convenient marking options and clearly visible LEDs
Integrated Load Management
High-capacity power supply:  32 amp module supply, 2 amps per DO, and a 4 amp supply for IO-Link devices
Adjustable output current limitation
Power consumption monitoring
Current and voltage alarming
Monitoring voltages and currents (per channel and module-wide)
Channel-based temperature monitoring
All-in-one Solution with IO-Link
End-to-end cloud and fieldbus communication with IO-Link
Simplified wiring eases planning
Automatic data setup for replacement modules
Up to 8 IO-Link hubs per module – Up to 4 amps per IO-Link port – Up to 128 digital IOs on one master
Star topology for short line paths
Fewer IP addresses
---
Weidmuller SNAP IN connection
The new SNAP IN connection is as simple in principle as it is to use. The stripped conductor is inserted directly into open connection points, with a noticeable "click" noise, a secure connection is ensured. And it is just as fast the other way around. Simply press the pusher and the connection point re-opens immediately. Significantly accelerated installation and maintenance processes through minimized time and material expenditure will save you on costs. Thanks to the unique "mouse-trap principle", the SNAP IN connection connects in record time.
---
Standard Electric Supply Co. is a family-owned distributor, built on delivering outstanding service. For over 100 years, Standard Electric has been the best at what they do; delivering top-quality products, outstanding service, and providing value-added services to customers across the Midwest. Visit standardelectricsupply.com to see how Standard Electric can become the solution to your needs.