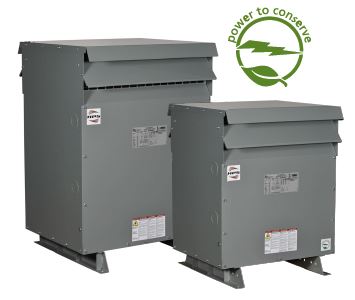 Transformers have been and remain an essential part of our electrical infrastructure. Everywhere we look there is a transformer supplying power to industrial, commercial, or residential applications.
Improving the energy efficiency of new transformers is a primary goal for both the U.S. Department of Energy (DOE) and Natural Resources Canada (NRCan). Over the last decade, new and more stringent energy efficiency regulations were put into effect:
The United States change occurred January 1st, 2016
Canada aligned with the United States effective April 30th, 2018
Hammond Power Solutions, the industry leading manufacturer of standard and custom dry-type transformers in North America, proudly supports the new regulations and the environmental benefits resulting from using higher efficiency transformers.
DOE 2016/NRCan 2019 Compliant HPS Medium Voltage Transformers
The new DOE 2016/NRCan 2019 product lines from HPS are based on extensive customer input resulting in industry leading technologies and materials to meet your most demanding applications.
Medium Voltage Distribution Transformers - HPS Millennium G
With three phase ratings from 15 to 1500kVA and single-phase ratings from 15-333kVA, they feature the newest technology and manufacturing processes. They are suitable for any commercial, industrial or renewable energy application, and can be offered for a variety of environmental conditions and built to meet the most onerous duty.
The HPS Millennium G features a core and coil construction:
Manufactured from quality non-aging, cold rolled grain oriented, silicon steel laminations
Cores are precision cut to close tolerances which eliminates burrs and improves performance
Core is coated to resist oxidation
Precision wound with copper or aluminum conductors that are electrically balanced to minimize axial forces during short-circuit conditions
Wire or foil conductors for optimum performance for the application
Robust interface between core & coils for better short circuit performance
Front accessible separate high and low voltage terminals with connectors suitable for either copper or aluminum cables.
Benefits of using the HPS Millennium G include:
Meets the minimum efficiency standards mandated in DOE 10 CFR Part 431 (levels as of Jan. 1st 2016), NRCan 2019 SOR/2018-201 (effective April 30th, 2019), resulting in increased dollar savings and positive societal/ environmental payback
Designed for indoor or outdoor applications
VPI windings are mechanically durable for the most demanding environments
Minimal maintenance required beyond removing surface contaminants, such as dust
Ease of installation
Excellent resistance to short circuits
Self-extinguishing in the unlikely event of fire
Environmentally friendly
For more information and for individual specs on the three available sizes of the Millennium G, click here.
---
Standard Electric Supply Co. is a family-owned distributor, built on delivering outstanding service. For over 100 years, Standard Electric has been the best at what they do; delivering top-quality products, outstanding service, and providing value-added services to customers across the Midwest. Visit standardelectricsupply.com to see how Standard Electric can become the solution to your needs.