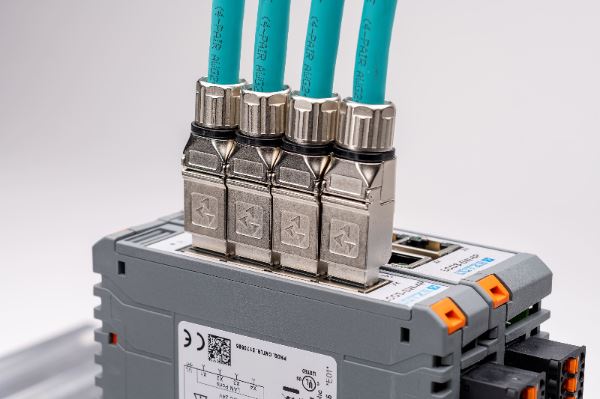 LUTZE, the complete solutions provider for industrial Ethernet applications, has introduced two new Cat7 industrial cables that support transfer speeds of 10 Gbps and frequencies up to 600 Mhz.
These newly released Cat7 Ethernet cables will ensure network reliability in the harshest of industrial environments. With the strictest specifications for signal integrity, the cables include shielding between individual pairs as well as an overall braded shield. In addition, the Cat7 Ethernet cables are backwards compatible and can service prior Cat5e, Cat6 and Cat6A standards, all while "future-proofing" any upcoming network expansions.
The new Cat7 cables come in two variations:
Ethernet cable #A1040300: Intended for stationary applications, the Ethernet cable carries multiple approvals, including CMR, CMX Outdoor, PLTC and AWM 600V. With these approvals, this cable can be installed in a wide variety of applications. It comes with a rugged oil resistant teal PVC jacket that is suitable for harsh industrial environments and operating conditions.
SUPERFLEX® Ethernet cable #104404: Intended for continuous motion installations, the SUPERFLEX® cable is rated up to 20 million flexing cycles. It is UL Listed Type CMX and is compatible with all major drag chain brands. It comes in a green PUR jacket that is oil resistant, highly abrasion resistant and designed for harsh industrial environments.
These new Cat7 cables are just part of the complete solution that LUTZE provides for industrial Ethernet applications. For more information on the variety of LUTZE Ethernet cable and connectivity product solutions that Standard Electric carries, click here.
---
Standard Electric Supply Co. is a family-owned distributor, built on delivering outstanding service. For over 100 years, Standard Electric has been the best at what they do; delivering top-quality products, outstanding service, and providing value-added services to customers across the Midwest. Visit standardelectricsupply.com to see how Standard Electric can become the solution to your needs.