The TeSys GV Motor Protection series, the result of 90 years of motor circuit breaker engineering and innovation from Schneider Electric, provides four essential motor circuit functions:
Motor Inrush Protection
Disconnect
Manual Motor Starting
Motor Overload Protection
Schneider Electric has introduced three new ratings to the GV Motor Protection Line.
TeSys GV4 is compact, robust device that combines a circuit breaker and overload relay in a single device up to 115A. It allows downstream motor control components to be used up to their SCCR component ratings.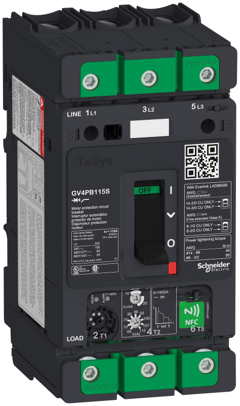 The TeSys GV4PB, available to 115 amps, includes an adjustable motor overload dial setting, selectable class 10 or 20 trip.  Other settings of the trip curve can also be set wirelessly using a Near-Field Communication (NFC) ready android device, or directly from a labtop. The TeSys GV4PB can provide a pre-trip alarm using the SDx module, which can be helpful to keep the equipment running by taking action before a trip event occurs.
For OEMs, the GV4PB increases the 2-component branch circuit for motor loads up to 115A, saving valuable panel space.  Using the pre-trip alarm capability, OEMs can make their machines more intelligent, reducing downtime and maintenance costs for their customers.
The TeSys GV4PB is one of the most efficient and reliable solutions of its size.  With advanced protection and pre-trip alarms you can have better process control and anticipate problems before they happen. With the GV4, you can:
Increase Uptime
Detect overload or jam issues before they result in machine stoppage.
Smart phone access to quickly see fault history
Save Time
Replace breaker-contactor-overload relay with simple GV4PB-contactor solution.
Smart phone access to facilitate maintenance on site
Field installable accessories
Improve Efficiency
Smart phone access to adjust settings in the field
Avoid having to reset trip using SDx module to open/close contactor
EverLink technology ensures lasting connection
The TeSys GV5 & GV6 are reliable and robust motor circuit breakers, from 115A to 520A with advanced electronic protections. It allows downstream motor control components to be used up to their SCCR component ratings.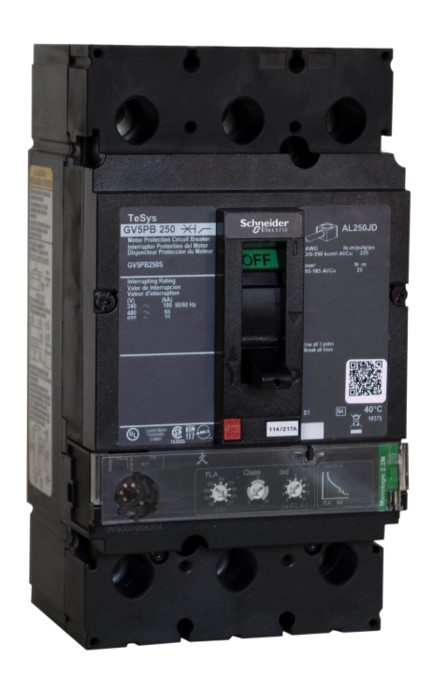 The GV5 and GV6 combine the functionality of a circuit breaker and an overload relay in a single device.  Add any UL listed contactor, such as the TeSys D, TeSys F, TeSys N, or Type S, to complete the branch circuit for a motor load.  The TeSys GV5PB is available to 217 amps, and the TeSys GV6PB is available to 520 amps, and both include an adjustable motor overload dial setting, selectable class 5, 10 or 20 trip, as well as an adjustable short-circuit time of 5 to 13 times Ir. Solutions cover a range of application needs from compact and cost effective to advanced control and predictive alarming.
Benefits of the TeSys GV5 & GV6 include:
Simplify higher HP motor circuit s from a breaker-contactor-overload relay circuit to a 2-component GV5/6PB-contactor solution.
An ingenious alliance of advanced electronics and electromechanical technology, the GV5PB & GV6PB range of motor circuit-breakers provides more effective protection and is ideal for demanding applications
Optional Thermal Fault module (SDTAM) that provides a pre-trip alarm contact
Easy installation thanks to universal fixing arrangement: Screw fixing
Automatic compensation for ambient temperature variations
Wide range of accessories and auxiliaries provide flexibility
Suitable for isolation provides user protection
---
Standard Electric Supply Co. is a family-owned distributor, built on delivering outstanding service. For over 100 years, Standard Electric has been the best at what they do; delivering top-quality products, outstanding service, and providing value-added services to customers across the Midwest. Visit standardelectricsupply.com to see how Standard Electric can become the solution to your needs.