I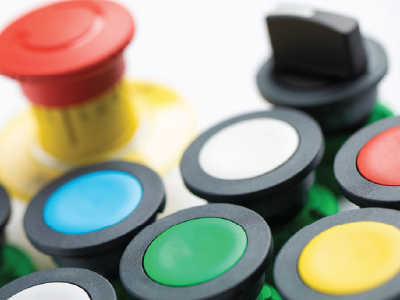 t goes without saying that your products must conform to health and safety regulations. But beyond that, when it comes to industrial machines and operator workstations, you need to take ergonomics into consideration - your product needs to be easy to understand and easy to use.
Why are ergonomics important?
Greater comfort: Machines that are easy to use reduce operator stress
Increased productivity: Clever, intuitive controls help operators learn easily, work faster, and make fewer errors
Modern design: Your product should look as good as it feels
How can you improve the ergonomics of your machine's design? By using customizable push buttons from Schneider Electric.
By creating a control panel with custom push buttons, pilot lights, selector switches, legends and legend panels that is organized, clearly labeled and easy to use, you can help prevent errors and ensure optimal use of your controls. Custom legend panels easily allow designers to create a hierarchy of information, placing the most important information front and center, and clearly mark the controls themselves instead of using a variety of labels placed throughout the legend panel. You can even take into consideration colorblind users, by adding symbols instead of just using colors to communicate important information.
In addition to improving the ergonomics of your machine, customizable push buttons will improve:
Aesthetics: Choose from almost unlimited colors, insert images, pick your own font and font size. Don't like the design, just edit it until you do!
Installation Time: When you design your legend panels, the legend panel acts as your panel layout for hole punching and drilling. No matter how many panels you have, the legend panel acts as you template for component layout. This will save you time in panel assembly and ultimately, save you money.
You're probably thinking that designing custom push buttons is a long and complex process – but that's not the case! Schneider Electric designed a simple tool where with just a few clicks you can create your custom push buttons, pilot lights, selector switches, legends and legend panels. You can check out the tool here.
It's just that easy!
But don't just take our word for it – check out this video from Schneider Electric that shows you just how easy it is to configure your own push buttons and legend panel:
---
Standard Electric Supply Co. is a family-owned distributor, built on delivering outstanding service. For over 100 years, Standard Electric has been the best at what they do; delivering top-quality products, outstanding service, and providing value-added services to customers across the Midwest. Visit standardelectricsupply.com to see how Standard Electric can become the solution to your needs.