Telemecanique Sensors by Schneider Electric is a comprehensive line of electrical sensors, designed to support your material handing applications, from detecting a solution for an automated storage and retrieval system to a conveyor system and more. No matter your application, Telemecanique Sensors has a sensor solution for you.
Three of the most common material handling machine systems are automated storage and retrieval systems, conveyors, and stretch wrappers. Take a look these examples of how Telemecanique's sensors can be used for each application.
Automated Storage & Retrieval Systems:
XS Cylindrical Inductive: Verifying the table position to validate the movement authorization
XCKW Wireless Limit Switch: Battery-less switch for detecting the compartment where the lift stops
XCC Encoder: Detecting the transtorage unit position in front of a pigeonhole before picking up or depositing
XUM Photoelectric Miniature: Verifying the presence of load on the table
XUK Photoelectric Laser: Distance measurement for translation travel
XG Radio Frequency Identification: Traceability of bins in the warehouse
XS Rectangular Inductive: Detecting an overtravel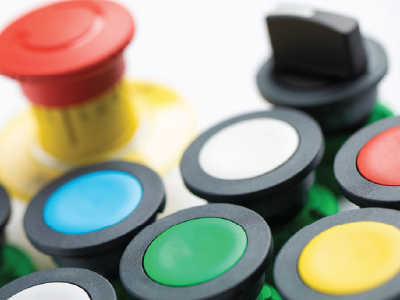 Conveyors:
XUM Miniature Photoelectric Sensor: Detecting the passage and presence of packages with background suppression
Preventa XY2 Emergency Stop: Emergency stop cable switch
XUSL4M Safety Light Curtains with Muting: Efficient detection of machine operators with uninterrupted automation processes
XUB Cylindrical Photoelectric Sensor: Detecting the passage and presence of packages using a reflector
XUY Roller Photoelectric Sensor: Integrated, between-the-rollers detection of the passage and presence of any object
XUW Vision Sensor: Quality checking of the packages
Preventa XCSR RFID Safety Sensor: Shuts down the machine if the door opens
XX Ultrasonic Sensor: Detecting the passage and presence of objects regardless of their color, shape or orientation
XG Radio Frequency Identification: Traceability of packages in the warehouse
Stretch Wrappers:
XUK Laser Photoelectric Sensor: Distance measurement to the pallet
XX Ultrasonic Sensor: Detecting end of film reel or film breakage
XCMD Miniature Limit Switch: Detecting the end of positions
XUX Photoelectric Sensor: Detection of package overhang
Preventa XUSL Safety Light Curtains: Monitoring access of persons to hazardous zone(s) of the machine
Need more details on Telemecanique's sensor options, and how they would work for your material handling application? Read more here.
---
Standard Electric Supply Co. is a family-owned distributor, built on delivering outstanding service. For over 100 years, Standard Electric has been the best at what they do; delivering top-quality products, outstanding service, and providing value-added services to customers across the Midwest. Visit standardelectricsupply.com to see how Standard Electric can become the solution to your needs.