Standard Electric Supply Co. is a certified ISO 9001:2015 distributor. To maintain our ISO certification, we are required to adhere to certain standards. One of those standards is we must have formalized work processes that are documented to ensure that our customers receive consistent and reliable service. These processes must be audited to ensure consistency, effectiveness and to correct any deviation or breakdown in said process.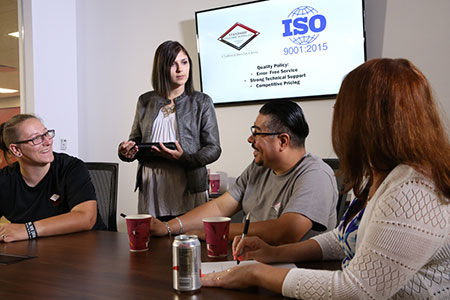 Audits, or a documented review of a process (written procedures, work instructions, check lists, etc.) are performed to ensure that associates are following procedures as outlined in the work instruction for the task they are performing. These audits assure that we can uphold our company's quality policy of providing error-free service, strong technical support, and competitive pricing to our customers. While additionally sharing a willingness to listen to our customer's concerns and meet their requirements.
These audits also help us maintain our quality objectives:
To clearly define customer needs within an appropriate quality measure.
To establish a philosophy of preventive actions and controls to ensure customer satisfaction.
To promote a collective commitment to quality within the organization.
To provide continuous review of service requirements and achievements and to identify opportunities for service quality improvement.
In order to perform these audits companywide, Standard Electric relies on a team of volunteer auditors. Currently, Standard Electric has a team of 13 volunteer auditors from a variety of departments within the company including: Customer Service/Sales Support, Human Resources, Quality Assurance, Outside Sales, IT, Accounting, and Warehouse.
Being an auditor is no easy task, our auditors must go through rigorous training in order to assure they are performing internal audits according to our audit process checklist, procedural guidelines as well as ISO standards. There is an internal Audits System Procedure they must follow. This procedure consists of core objectives, responsibilities, planning and conducting the audit and finally recording the audit findings.
Auditors are required to have knowledge of:  
Work instructions, processes and system procedures to conduct a thorough audit.
Previous documented corrective actions or preventive actions on the process being audited
They are to:
Stick to the schedule as outlines and complete their audit during the time allocated.
Review scope of the audit with internal parties involved before beginning interviews on the process.
Ask the appropriate questions to identify if there is an issue and if it has been corrected.
Document audit responses, supporting evidence and examples while performing interviews.
Compile findings, conclusions and to make recommendations. Then provide them to the Quality Administrator for the final audit report.
There is great care that goes into each audit. Thank you to our internal auditors for all your hard work to ensure we provide the best possible and consistent service to our customers!
---
Standard Electric Supply Co. is a family-owned distributor, built on delivering outstanding service. For over 100 years, Standard Electric has been the best at what they do; delivering top-quality products, outstanding service, and providing value-added services to customers across the Midwest. Visit standardelectricsupply.com to see how Standard Electric can become the solution to your needs.