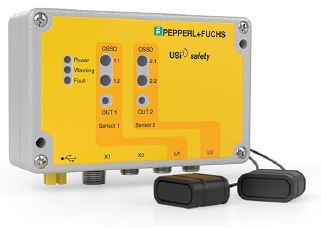 Pepperl+Fuchs has been developing ultrasonic devices for over 30 years. Their forward-thinking team of experts continues making strides towards advancing ultrasonic technology. This includes the USi-safety ultrasonic sensor system by Pepperl+Fuchs which outclasses its competition.
The USi-safety ultrasonic sensor system combines remote converter design with cable lengths up to three meters. The system excels in a wide array of movement with multiple applications thanks to an Auto-Guided Transport Systems that implements sound fields running adjacent to each other.
Optical sensors are susceptible to all sorts of dirt and debris and must be kept clean for optimal use. The USi-safety ultrasonic sensor isn't limited by the cleanliness of its work environment because it utilizes a sound field. In addition, photoelectronic light curtains need constant maintenance to ensure optimal use. The USi-safety ultrasonic sensor system is insensitive to even the most demanding environments.
The USi-safety ultrasonic sensor offers unparallel safety measures. The sensor system technology resists environmental obstacles. It allows automated forklifts to operate in a wide area with Auto-Guided Transport and can detect hazards in the most ambient of conditions. The three-meter-long cables also allow for a greater range of sensor placement for maximum protection.
Safety and automation are essential in keeping a bustling work environment working at its peak. The USi-safety ultrasonic sensor system, with its teach-in functionality proves Pepperl+Fuchs is the leader in sensor technology.
To learn more about the USi-safety ultrasonic sensor system and the other products Standard Electric offers click the button below.
---
Standard Electric Supply Co. is a family-owned distributor, built on delivering outstanding service. For over 100 years, Standard Electric has been the best at what they do; delivering top-quality products, outstanding service, and providing value-added services to customers across the Midwest. Visit standardelectricsupply.com to see how Standard Electric can become the solution to your needs.