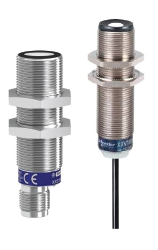 It's important that we don't miss the small details – but what happens when your sensors can't detect them? With mobile equipment missing small details can make for some big issues.
That is why Telemecanique Sensors by Schneider Electric has introduced a new range of XX Ultrasonic Sensors. These new sensors offer a wide variety of sensing distances, outputs and operating modes in order to provide flexibility and meet the needs of demanding industrial applications.
Created with a powerful transducer and a superior electronic design, the new XX Ultrasonic Sensors easily detects small objects. The built-in high sensitivity level also enables them to detect many poorly reflective and curved surfaces. The XX Ultrasonic Sensors are even able to be used in harsh environments, thanks to an anti-UV plastic housing that operates in temperatures ranging from -40 degrees Celsius to 70 degrees Celsius.
But just because they can sense small objects, doesn't mean you're limited to a small coverage area. The built-in synchronization feature means that you can reliably detect objects over a large coverage area with minimal risk of cross-talk, even when sensors have been installed close together. This is a great improvement over previous ultrasonic sensors which would sometimes fail due to interfering sensor signals.
Installation is easy too! With just the push of a button you can easily configure the sensors for your application. If you need more advanced settings, Telemecanique Sensors also offers a new configuration kit.
To learn more about the XX Ultrasonic Sensors from Telemecanique Sensors, download the product brochure, or reach out to Standard Electric's Technical Solutions Team.
---
Standard Electric Supply Co. is a family-owned distributor, built on delivering outstanding service. For over 100 years, Standard Electric has been the best at what they do; delivering top-quality products, outstanding service, and providing value-added services to customers across the Midwest. Visit standardelectricsupply.com to see how Standard Electric can become the solution to your needs.